It would be convenient for there to be an option to have the router accept text as its input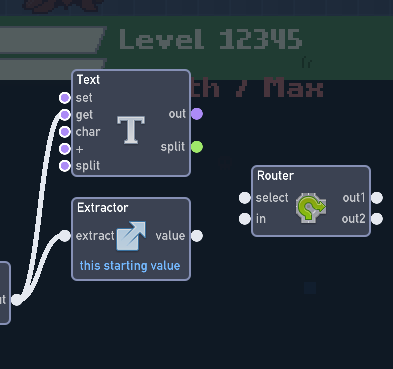 text to number
you can't convert it back to a text value though (if it's not a number)
The example that made me think of it:
I needed 3 different Labels for my quest menu. These Labels keep track of the progress, so I have a full text value that I want to directly input into the Label. I have 3 different quests on one page, and they have a starting value which determines where they are on the page. Here I use a router to decide which label it will send the text to. I had to make bundles for each one to get the text working. In my project it was a minor inconvenience, but for a larger project that wanted to use, say, 32 different routes of a router it would be a lot more convenient.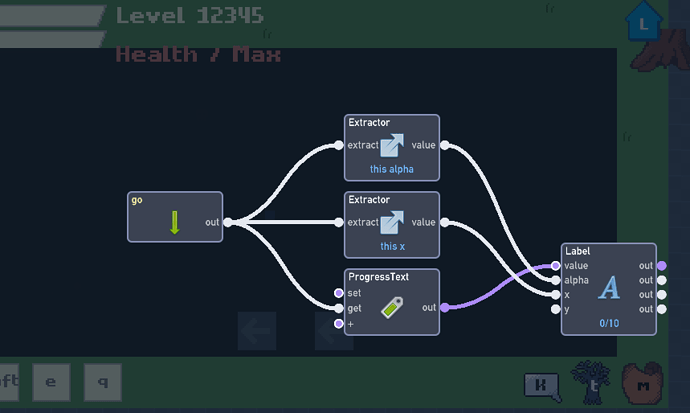 So, I don't know how feasible it would be in flowlab, but would it be possible to implement a sort of A1Z26 system? Like, turn each character into its corresponding number in the alphabet from 1-26, send it through the router, and then once it gets where it needs to be it could turn each number back into its corresponding character? I don't know. It could be more hassle than it's worth to get it working, but it was just an idea
That's definitely possible, but it depends on how many routes you use if it's worth the time lol
Here, I was curious if it would work, so I made an example
You can use it if it makes things easier, but you don't have to
Edit: You've GOT to be kidding me! Apparently nothing I did saved

Guess I'm gonna remake it now, lol
Ok, I fixed it. It works now. Let me know if you have any questions about it!