Ninja chicken skin suggestion
easter egg conversation + you can actually kill enemies now

ok so i kinda liked this game's aesthetic, but i may have to delete it for the next pixel game jam unless i get indie soon

making a new game
looks cool, i get the reference
a teaser for my new game…? wdym
oh all I saw was a blur at first guess my internet was having trouble.
new 'snazzy' skin

Introducing the newest game created by yours truly…
Keep Your Pace!
by BradenS (although it was created under GamougGaming's name.)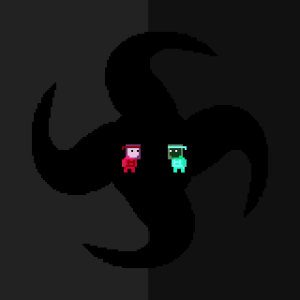 I hope you'll enjoy the different levels, and various music tracks made by me and some remixes by @Hong_Jooni_Pooni. This game was originally made for a Jam but I do need to get in some crucial updates.
New game being worked on in the shadows,
Big Tower Tiny Pixel (name subject to change, feel free to suggest ideas)
A simple platformer that will have a ton of movement options.
Planned ideas:
Double Jump
Coyote Time
Wall Jumping
Lots of moving platforms and obstacles
A tiny blue square as the player

The devlog of the day:
Added all essential blocks and created the basic player movement
Created background blocks for some more polish
Created Lava
Added a Respawn System
º And a working Checkpoint system
Added basic moving platforms
Implemented JR01's Camera+ Bundle
I think there's a game on CoolMathGames like this
Yeah, that was my favorite platformer back in middle school. That's why I'm taking name suggestions so doesn't sound like the same game