game design document/plans for the future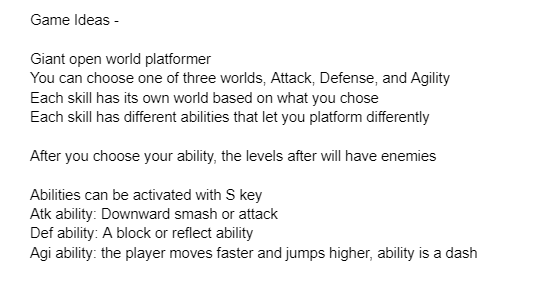 Small Update
Skill icons now have special animations representing how they work
I added new cheat codes for me
Special user skins are confirmed to come in later updates
A video in case you're too lazy/don't have the time to get to the top to see:

Sup3r

I think i've hit gamedev block
Hope you get well soon man
Are you still working on the same project?
well i just can't do it, idk what to do, just a complete creative block
I'm gonna post my BradenS' GameHub meme on Discord later
Try using this to come up with new ideas.
Bit Spire Devlog of the Day:
I added a new tutorial block wow
Bit Spire Devlog of the Day:
There's now a tutorial block at the top that gives you dialogue and shows you how to select a path.
The actual code to choose a path is not done yet though
Bit Spire Devlog of the Day: OMG I'M ACTUALLY GAMEDEVVING
I (kinda?) got over my dev block
Code to choose a path now works, and you can press S to select the path while standing in the corresponding light
Your color will slowly change to the selected path, and then you will be teleported to the level (Presumably with your new abilities from the path you chose)
The code for the different path abilities is not done yet, but I'll keep you guys updated.

Epic! New tutorial inbound. I sthere lore?
There is lore, I'll just have to find it back in the discord when we were having that conversation with Mhx
Ok. Cool. Maybe I'll make fanart of this game

Bit Spire Devlog of the Day:
New platforming code (for the Agility path)! It has dynamic jumping and movement acceleration! Courtesy of Agent_Y
Working on AGI level!