then why not make your own terreaina game and add what you want in it and i can help you
ROY


so my friends challenged me to pixelate that terraria stickman image and turn it into an animation. this is sort of what it looked like: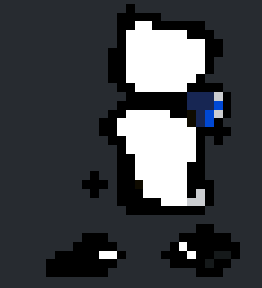 so i made it into Roy.
(he's not gonna be in any games its just a little animation)
Nice. That's actually pretty good


thanks! too bad i ran out of likes for today lol
Here:

Oh look it's another solution

Let's add that to my collection:


lol take al the likes he shooting
only 4 frames, but it's a bat!

I think this animation looks pretty cool, but i accidentally made it in 32x32, so there's a link to me recording the bigger version here in screencastify


yeesh i have not updated this in a long time


motion line test


run cycle test (it sucks)


geometry dash


solar armor (terraria)


stickman but he's like a magnet?? idk what i was doing but it like this



water (i really like this)
This is really nice

smooth, reminds me of that one guy who does the black and white animations on youtube and his name startrs with the letter T or something
I think he avoided saying the guy's name because his animations might be too questionable for Flowlab
Funky