October is half over, so this list will carry on into November as well. All known bugs were addressed in September. Please comment any new bugs you have found.
To help organize a checklist, I will be making a list of confirmed and unconfirmed bugs. Please feel free to test these yourself, and contribute your own bugs to the list.
Thank you.
__________________________________________________________________________
CONFIRMED
A dash - means that grazer has also confirmed the bug, and has been checked.
(These bugs have been tested several times by at least a few members, or by myself, and do exist.)
[FIXED] Game layer objects (Possibly GUI objects as well) cannot send messages until you refresh the page
Massive freezing lag spikes in games like Vortex, that use a lot of animations and emitted objects
Cache errors for editor, when hitting play, cache doesn't clear, so rotations and other behaviors stay, and objects may stick to the mouse
[FIXED] Website game "Last Updated" sections are all updated falsely, likely caused by other users playing or opening the games, not from being updated by the creator
White screen camera error when camera starts off screen in editor testing
Run and Jump bundle needs to be fixed
[FIXED] Emitted objects while spawner is flipped causes emitted objects to also be flipped, but vertically instead of horizontally.
The first emitted object from a spawner does not get detected by proximity if emitted by a timer or once, but does if emitted by a button press.
[FIXED] New Game tutorial places "browse" prompt over the upload button
[FIXED] Proximity circle sometimes does not appear, or gets stuck on the mouse
[FIXED] Clones and emitted clones are sharing click data with each other, and the wrong objects get destroyed.
[FIXED, finally!] Proximity appears to be detecting incorrect objects under some circumstances
COMMUNITY TESTED
(These bugs are not confirmed nor unconfirmed, but have been tested by several people in the community, and likely do exist.)
UNCONFIRMED
(These bugs have not yet been tested by either grazer nor I.)
Possible proximity bug not detecting blocks that share the same grid space.
DEBUNKED
(These bugs have been shown to not exist for others, or could not be recreated, and may be a result of the game itself having bad wiring.)
__________________________________________________________________________
If you have any bugs, comment them below. I will add them to the list.
BUG TESTER
[spoiler] Here's a build of a simple Bug Tester engine. You can clone it and use it yourself.
Directional Keys
(Use to check if your buttons are being pressed right, if something they do is not working.)
Up = 1 ; Right = 2 ; Left = 4 ; Down = 8
Collision
(Shows a collision marker for 1 second. Use to determine if you are actually touching an object.)
Bottom = 1 ; Right = 100 ; Left = 10 ; Up = 1000
X/Y Velocity
(Use to check your movement, jump, or fall speed.)
-Left +Right ; -Up +Down
Bug Tester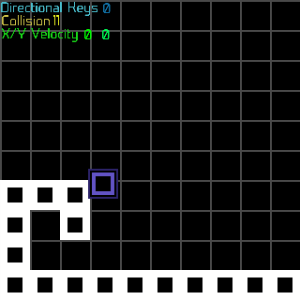 [/spoiler]