No, I want this to be a team effort. I doubt I'd think of something like that anyways.
Who said the game is gonna be released now? The Anniversary Editions are supposed the ultimate versions of the game; are supposed to be released at least a year after the originals.
I haven't even touched your games before
Huh? Then I must've misremembered. But I do believe that you've forgotten your possibly true comments on my first post about Gamougg 3?
I have never played any of your games…
I never said anything about having played it, I was sharing general facts about how the plays system works…

Understandable, have a great day.
And I have my own games and ideas to work on…
I was invited to the party, just so you know, I won't be that active as I have to also work on Magnus and my new game so…
Regretting all this already huh?
Sure…

I think you're unaware that you invited my free account to the developer team.
You see, I use my old free account on the forums but the account I make games with is LandonY, so if you could add that user instead of DinoDev, I just don't visit that account so it's kind of useless except for the forums.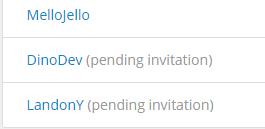 LandonY is his main account


see something familiar?