WHY IS THE GALAR DUDE USING A MEWOSCARADA, A POKEMON ONLY FOUND IN PALDEA!??!??!?!??!?!
I have no idea but the only attractive thing in pokemon's universe are my pokeballs probably, the bright colors attract lots of pretty birds such as peacocks and barn owls
I'm making a Pikachu drawing. I hope you guys will like it.
I meant to say that the drawing itself is a surprise, im not drawing the surprised Pikachu meme. Sorry to anyone that wanted the meme.
Me, Sweettea12345, and a friend of ours have actually been creating designs to try to make our own pokemon world. We´re almost there actually, just need to finish up the story, gym leaders, elite four, and other things.
My favorite Gen 9 pokemon is Tinkaton. But then my favorite starter gen 9 is Meowscarada. My friends keep making fun of me that I chose Sprigatito but in my defense…
About 87.5% of Sprigatito is Male.
that just means you like feminine men

no i just like the design because magicians are cool isnt that so amazing like oh my gosh i bet you were amazed from this information that i, deadly smile like magicians and that meowscarada is a magician pokemon and that's really cool and also i was gonna choose quaxly but I didn't like his final evolution that much because it was not what i expected but when i saw meowscarada i was oh so cool magician pokemon with cool mask isnt that so amazing but then my friends were like

and I was all like:

but then me and my other friend found out about the gender ratio of the pokemon and he decided that i was valid and then i told him that just think magicians are cool tophat or no tophat and he understood and so all my friends stopped being

and became

and i also became

and today i still like magicians because they look cool

bonus content for who survived my very long sentence


Look at the freaking design its so cool like that mask is amazing and that fact that meowscarada has a reflective fur line on its cape just to camouflage the stem of its flower (i got that information from the pokemon card) is so cool and I also love dark type pokemon so since you said:

i felt very offended and decided to type up and essay with barely any capital letters and no periods indicating that it is the end of the sentence therefore i do not like

i like magicians thank you for reading
(funny)
meowscarada isn't a magician, it's some kind of stage performer
actually he is look at the card it literally says the magician pokemon (cant show im on mobile)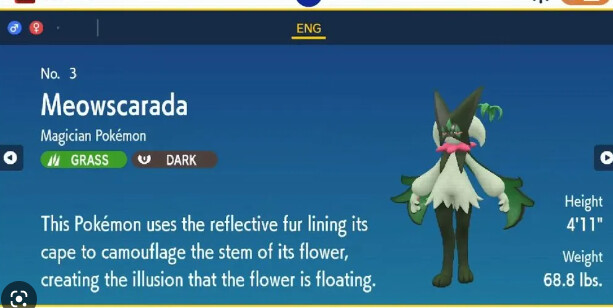 oh ok, i chose fuecoco because it's the best starter
I like them all, weed cat for grass, drip duck for water, and grimlock for fire. I like grimlock.
All the gen 9 starters and their evolutions are solid
Yeah, the gen 9 starters are all pretty good. I just favor fuecoco because I think his first evolution is cuter than the rest. Also fire type is the best starter type in my opinion.