My favorite CubeTales in-universe fiction has to be Sinus Guy. He's so cool I think we could even make a game about him.
Diarrhea slayer billboard (not related to Sinus Man)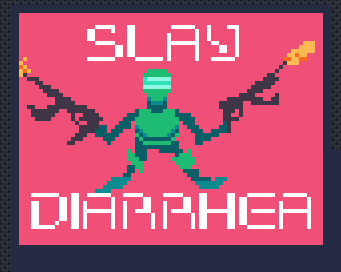 Inspired by the specific appearance of Pepto Bismol in Transformers (2007).
I love it lol, keep adding these awesome billboards



okay!

Look at this and tell me what you see.
someone who should've used the text function in the sprite editor.
I did tho? I resized it so maybe that's why you don't like it. It's a small billboard on a city background.
it's way too resized, try at least cleaning it up yourself
you can't tell me that "I" looks natural

% reasonable but the point was for me to see if anyone got the reference

. Additionally, I cannot edit this game right now because I asked grazer to restore it to a previous state to fix a sprite-slicing bug.
Do it later some stuff is going on
oh you're typing already
so you know
What the heck happened? I was only gone for a few hours
I was trying to add a new billboard when it happened
Chill I already pinged him on Discord
the heck kind of billboard crashed the game?