Hey everyone, not a big project release, but it's something cool too

Me, @JR01, and @TinkerSmith made this way back as a test game when working on the FlowFx, so you might recognize the UI from there eheh.
I polished this up slightly to be user-friendly as well as added a random color button and the copy color code button, so we could use it to import color codes into other projects.
The Flowlab Color Picker: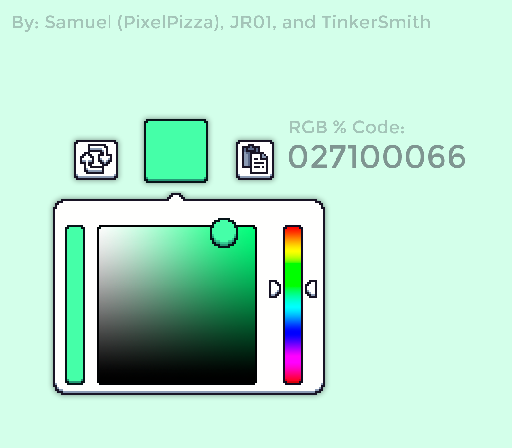 ---
Color Code Explanation - RGB% Code:
Every three digits represent the % of its specific color.
RRR GGG BBB
RRR - 027
GGG - 100
BBB - 066
Inputting these values into the Color behavior will make a (white) object become the color you see on the color picker.


---
Feel free to use this color system to convert and make colors for your games.
This kind of system can be used for customization on sprites.
I'm opening this up because it might be helpful to someone out there since the code is a bit hidden inside Flowfx. Have fun? ahah

Link again

: https://flowlab.io/game/play/1476258