bro it actually feels like u buffed them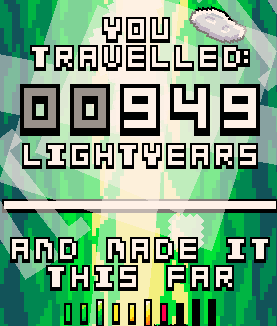 I DID ITTTTT
OMGG I DID IT
my fingers are shaking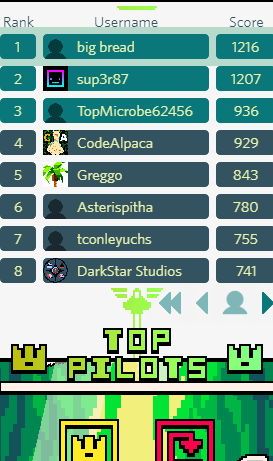 my strategy: stay in the middle of the screen, if you need to dodge an asteroid, just swerve to one side a little bit, then swerve back in. DO NOT go for every powerup. I usually grab a capital cannon then hold it until the next boss. If i'm very low i might occasionally go for shields/repairs, but for most of the winning run i was on 1-2 hp.
That's pretty much the strat I was using also…
But have you found the consistent strategy to beat all the bosses and never worry about taking damage? I got 926 on my first attempt, I just haven't tried again because I was worried my keyboard might break again mid-run
(And yes, I did find the consistent strat)
So like a hardcore challenge right?
My try at a no-damage run
Not the best tbh
Good job my friend. If this were the full game you'd be fighting the final boss. Pat yourself on the back

I choked at the end, I was thinking of what I was going to write when I got 1216 and miss an asteroid heading straight towards me. Got to 520 damageless.
Hey all, just finished implementing the second t1 boss, Zotan. It has a 2/3rds chance of spawning (for now) and shoots homing rockets. Lemme know if it gets too hard in the later difficulties/needs changes to things. Haven't added the debris sprites yet. Thank you

it's pretty easy actually. all you need to do is hold down a or d and the missiles can't hit you.
i don't really know how to make it sufficiently harder but it wasn't that bad.
Uh, I can generate a shield… o_o


Sorry for bad quality the gif site I used downgraded it.
@sup3r87
thanks for the report! I forgot to remove the cheat key lol