The game is now in a playable state! The only thing you could try right now is the tutorial though.
Update: Made it so instead of having to take damage to go back to being normal from transforming you could go near a statue that looks identical to the character to go normal.
Did you read the top? Explaining why its so badly drawn and spelled?
Or are you just doing that?
Oh, so you did that on purpose. With the car; pressing A makes the character go to the left and doesn't change the object into a car.
Sorry for the misunderstanding, it's actually the letter Q. I noticed that and hoped someone would tell the difference. The font for some reason makes the letter A and Q look the same, I might even have to change it later on in development.
Oh, ok. Cool game though. I like the aspect of transforming into stuff to get to certain places.
Maybe… I have decided to keep it on PC for now untill I get a buncha levels done.
I really like this game! Another solid one from Deadly Smile.
description!?!?!?!?


The main bosses (there are other bosses but not important to the story) represented in Pizza Tower Style!?!?!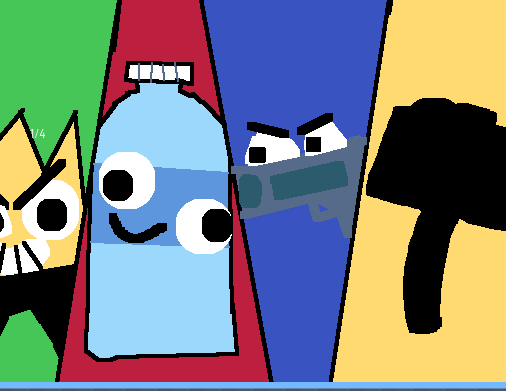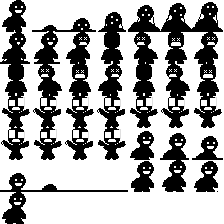 Current spritesheet for the player
Now I am back to making this (I was procrastinating)
The baseball bat character can now shoot baseballs
New update (forgot to add this in the last post)
Devlog: 2
You can shoot the baseballs to break them
Level 1 is halfway done
Game over animation
Game over screen
bug fix
Hey yall my school friend, @Deadly_Stars is making a fangame based off of my game and pizza tower. The main character is the antagonist of this game: Rock. His game is called Rocky Tower and you should check it out (he didnt make a topic on it yet)

(If he says anything like it was his own idea and stuff, ignore him. Thats his thing)
I cannot decide which new enemy to add in because the 2 I made are pretty cool.
What do I choose help me
Tape; It will charge at you when you're in it's sight. If it attempts to catch you it dies then you will take damage and you will be stuck in tape. Spam the spacebar to escape. It has 1 HP
Speakers; This enemy can shoot sound waves around him in a circle so it'll be pretty hard to kill him. You can break the circle as it goes farther away from the enemy with a bullet. It has 2 HP.
Or I can just add all of them in