Halo: Flowlab Evolved is a 2D Halo fan game I made for literally no reason. Here is the link:
Flowlab Game Creator - Halo: Flowlab Evolved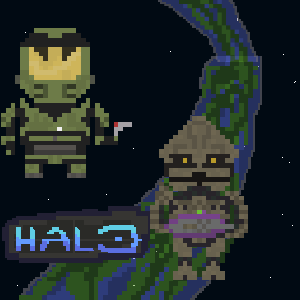 It features:

Master Chief as he appears in every game

2 player co-op

Playable Arbiter, plus the two characters from Halo 3 who are almost never seen again: N'tho Sraom and Usze 'Taham.

Cortana appears like once

6 full campaign levels

2 forge maps

drivable vehicles (Warthog and Ghost)

4 different types of Grunts, 1 type of Elite. I haven't finished drawing the Jackal yet and I don't know if I ever will.

The Active Camouflage powerup. Overshield is coming soon.

The jetpack as an equipment pickup.

And several bonus Forerunner maze levels.
Updates 2021-06-28


Added realistic muzzle flash (I think that's what it's called).

updated the grass and foliage.
Added Firefight; it's currently a demo right now.