Skirmishes are exclusively female now in Halo infinite
wait what's the difference between jackals and skirmishers?
They're both part of the Kig-Yar species, but Skirmishers are a subspecies of Kig-Yar called T'vaoan.
Important poll!
Update this game
Make a sequel
Also I added shield flare and updated several sprites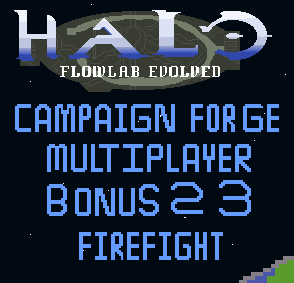 How does the updated menu look?
It looks good, but you should make the buttons look more like buttons. Also, make the letters a uniform font using the word tool in the sprite editor.
Actually, I'll give it a try. Also the buttons look less like buttons because they're supposed to be as authentic as possible to the legendary 2001 classic.
I can see that. I would recommend copying that button effect.
Ok but how would I do that glow effect around the letters?

Massive update that started yesterday and concluded today!
All vehicles were updated! Check the game description for more info.
All vehicles now have skins; 3 each.
Ghost sprite heavily updated
Fixed blade design on the Spiker
Added credits and menu button for them (you can also reach the credits by beating the Campaign)
Added weapon skins for the Shotgun (because for some reason they weren't there before?)
Totally revamped grenades with a particle system shared by the fusion coils
Also should I make it so that Grunts are 32x32 pixels (1x1 Flowlab grid space) like in The GAME 420?
You just have to make the word a brighter color whenever your cursor is on it. I would use animations to do this as it requires less computing power than the color behavior.
Also, cool update!
Just added a mouse cursor and updated the menu. Also I forgot to mention that all level tips can now be skipped.
Which enemies should I add next?
Brutes (Jiralhanae)
Some jetpack enemy
Any kind of Jackal or Kig-Yar
Other (please specify)
First Halo: Flowlab Evolved Community Update of 2022!
First of all, I would like to wish everyone a happy new year. This update didn't happen yesterday because I was busy working on my Flowjam game with nhgcr. Without further ado, let's get right into the latest changes:
N'tho Sraom and Uzse 'Taham now have 3 skins each; more may be coming soon.
N'tho Sraom now has his own unique healthbar color.
The Frag Grenade disappears on the HUD for both Arbiter and Uzse 'Taham.
Grunts (Unggoy) are now 32x32 pixels! This means that they will fit in 1x1 Flowlab grid spaces just like the player.
Grunt (Unggoy) death animations have had one frame removed and the frame delay lowered by 1.
The Carbine no longer deals damage to the player and also uses the Attacher block weapon system.
The Tactical Carbine has been added. It's exclusive to Usze 'Taham.
Community Update 2022-01-05
Added Carbine weapon skins

Minion Assault Carbine weapon skin

Promethean Carbine weapon skin with energy bayonet (I put a white background because the Sprite Editor is dark mode only)

and three more (from left to right: Silent Shadow, Blue, and Camouflage)

Added Tactical Carbine weapon skins
Added the Stalker Rifle (I just drew the sprite, nothing else yet)
Revamped the shield flare to use the color behavior depending on which character you play as.
Community Update January 5th-6th, 2022
Sorry I added "poll" in the title yesterday when there wasn't one. I put it there by mistake.
Added UNSC overlays to the Gravity Lift and Man Cannon for the UNSC levels.
Enemies can now fire at and destroy Fusion Coils! Watch out!
Renovated Forerunner Intestines (bonus maze level) 1-3 and added new features.
Updated the Forerunner door and gave it MUCH smoother animation (it looks great now)
Updated SMG bullet sprite
Added second and third skins for the Arbiter: Ripa 'Moramee from Halo Wars 2 (pictured below)! The third skin is called Pizza Time. Check it out in-game!

Improved the contrast on Master Chief's "Halo: The Fall of Reach" skin that depicts him in his MJOLNIR Mk 4 armor. Press 7 while playing to see the changes.
I also added a third Forge map!
It's settled then, the next playable character (if I add any more) will be either a Marine or and ODST.
---
On a side note, Mission 7 is finally up and running! Here's a preview of what you have to do:

Aww I wanted Mister Chief
Okay I like him too but there are limited buttons on the keyboard.