It just hit midnight and my gym just closed, so I'm headed home. I was thinking about spending today making a Halloween themed game for you guys since I have the day off work. Should only take about 6 hours to make a fully functional game and graphics. What are your plans for today? Most of you guys are under 18, so I assume trick or treat is top of the list.
The game: Skevolution
[spoiler] I got tons of stuff done in 4 hours. I can probably finish it in another 4 after polishing it a bit.
Skevolution is a dance action pong game that increases difficulty the more you mess up. Keep the skeletons happy and you won't have any problems.
Use WSAD to hit dance actions for the skeletons on the left. The better you do, the happier the crowd, and you get two more dancers. It gets harder as you do better.
Use Left and Right to run and bounce bones into the air. Messing up dance moves angers the skeletons, so they throw bones at you. Don't let them hit the ground. 5 hits each and they break.
Hit the WASD button as soon as the box flashes in the square for a perfect. In Lightning Rush, you must hit perfect or great.
Survive as long as you can, and dance on.
https://flowlab.io/game/play/744786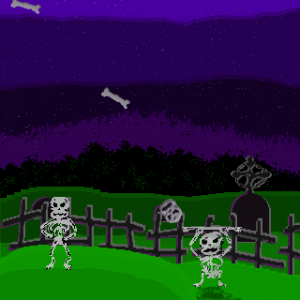 [/spoiler]