Baby, wake up. New Pixelpizza game just dropped.


Hi everyone, this is my new game for Flowjam 2023, Hidden Depths.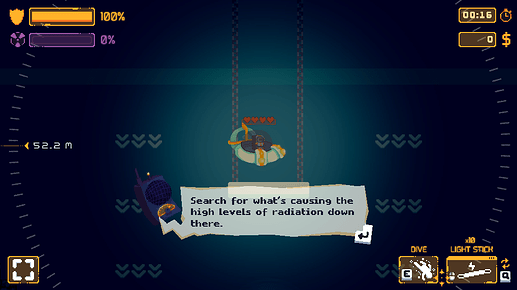 Play it here: https://flowlab.io/game/play/2195382
"Welcome to the unknown. You are now exploring waters never before seen by humankind."
A game where you must dive deep, explore and discover the cause of the radiation in these abyss waters.
"Post mortem" of the Flowjam. My thoughts and stuff as a devlog:

Before this flowjam, I was kind of on a creative block where I didn't feel like creating personal projects, art, or anything really.
So, to my surprise, it felt nice doing this flowjam, and I was able to do something I liked.
This year I really wanted to do a game that I felt like it, with mechanics I would like to play with.

So, I'm really proud of this one. I did many things I've always wanted to do, like a Wheel menu for weapon selection . I've wanted to do one of those since affrayer(/awakening)!!!

I did spend a lot of time working on the mechanics and everything but I didn't have much time to do the art. I did make some sprites that I'm proud of, like the player sprites and the UI.
But others are less detailed.
I also didn't have time to playtest as I spent a lot of time adding stuff.
I also did some cool stuff flowlab-wise like the rope physics, masks & a lighting system.
Overall, I'm glad I did this game. And I hope you all enjoy it too

Let me know what you fellow humans think