DISCLAIMER!
I'm not using cheaty-hacks or anything. Just observation on what people post on their flowlab profile.
Without further ado, let's dive in.
With the new release of @todorrobot's (and baconcat's) new game, you might be wondering where Corporate Goblins went. Answer: Tink and Bot still updating. They've input some new movement and weapons as well as some new enemies, and some cutscenes as well…
Overall the game's looking really good and I'm looking forward to the full version.
On another note, @HuckleBerry (F3ART) has been creating a new game called Marigold. Even the WIP is super fun to play; lots of monsters and a classic dungeon-crawler-esc game based on a dystopian world where humanity is in an ice age and your town runs on blood. Another thing to note is that this thing will have… Lore! (Yay, puzzles!) I've already figured out one that says "la douleur est insupportable", meaning "the pain is unbearable" in French (you chose the wrong guy for the French puzzle, pal

) Also, there is a tablet showing instructions on creating a star observer by DRAINING SOMEONE'S BLOOD. Another thing to note is that in the tablet object THERE IS LITERALLY AN AUDIO FILE CALLED "LORE"


Also, an unfinished object called "dissapointment"…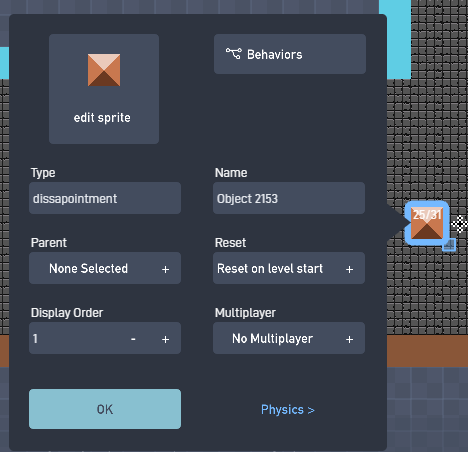 But that's basically all you got. You can play the game here: Flowlab Game Creator - MARIGOLD
On another note, @PixelPizza's cooking up another example: Spring Example. Just a typical bounce block, but I thought this was important enough to note.
Go ahead and play it here: Flowlab Game Creator - Jump Pad/ Trampoline/ Spring Example