how do i get this into my game XD
Go into behaviors, click import, copy and paste code, click OK, then you're done
hehehe, my title won, i am very hapy
Yes it did lol also did you know that poppies symbolize death and sleep (edit) and peace lol
and the seeds also contain morphine so maybe poppy seeds could allow you to revive yourself if you die
I think i have a screenshot for the game now its not the best lol


What do yall think? i also have other versions
Darker words
Higher words
White words (not finished version)
Light version
Darker version
Higher words
White words (not made yet)
i recomend changing the text to white or lack since the s in poppies is barely noticable
I noticed that so i am trying to make a new one lol XD
Added a discription! contains i guess lore XD
NEW CHARCTER (ignore my spelling lol)
Everyone meet Todd!
Todd is a young boy you meet in your travels, he has a bit of a wizz-bang/eccintric personality. He loves memes and makes crazy inventions. He is a bit OCD (i think lol) and when he talks (yes im planning on making dialog yaaayyyy) his speech is formated like flowlab code lol (so kinda like [thing] → [thing] → [thing])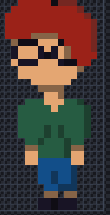 Ignore the black dot in his hair that was where my mouse was XD
just saw this topic again!
cute, but his arms look massively buff. try sizing them down a bit
Noo let him be that way its cool
I was trying to make a hoodie and those tend to puff out lol
I am going to lol i like him that way and i really dont want to change it lol XD
Should i start pinging people?
do you want to be pinged?
Yes for everything
Only for major updates
Nope not at all