When using the Acai Version, the turrets of the tank are facing towards the player. However when using the Bilimbi version the turrets seem to be facing up the whole time, the projectiles they eject are shooting in the right direction just the turret not facing it.
This only happens when they are attached though, when I place the turrets by themselves (not attached to body) they face the player normally.
Anyway to fix this as I would like to use the Bilimbi version.
Flowlab Game Creator - Tank Game (in Acai version)
Acai: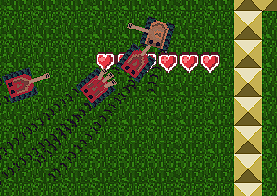 Bilimbi: