I'm not sure if I can add the last two levels before submission time ends.
Nice, but…
you stick to walls
i had no clue what to do
movement is too floaty
The portals don't work as they should yet; I got the switch blocks working for everything but the portals. You're supposed to stick to walls so you can climb over them. What do you mean by "movement is too floaty"?

I would like to know.
Floaty movement in game development generally and usually describes movement as the default run and jump bundle. To show this, make your player jump, then go left or right while in the air, let go of a left or right key before you hit the ground… your player is still going the same direction… which is generalized as floaty. To fix this, make it so that when the left or right key goes up, it gets 0 velocity x.
Now that the next level portals work, I will finish this game and make it live up to my expectations!
Also I changed the plotline a bit, hope you like it!
Great to hear, good luck John Shrekinson!
Thank you very much! I hope that the last two levels will be fun for everyone. The new plot synopsis also fits a lot better with the times.
Just finished making level 4!
Sneak peek of the last level
Also added combat dialogue and new tagline: BECOME THE GIGACHAD.
This represents Gamougg's dominance over the Crypto bros. I also picked this tagline because I was listening to this song during development:

i DONT CARE CAUS'GAmoog game is out!!
Then why are you posting here
hhhhhhhhhhaaaaaaaaaaaaaaaaaaaaaarrrrrrrrrrrrrrrrrrrrrrrrrrrrrrrrrrrrrrrrrr



Today's Updates:
Added a new Weapon Mod
Improved enemy reaction time
Added a new enemy type with ranged attacks
Bosses no longer flinch from bullets, only you you can make them flinch now.
Deleted chickens
Added blue core to the center of Gamougg's suit
Some stuff I forgot to announce yesterday:

Extended Gamougg's arm blade
Updated pause and fullscreen button designs
Added 3 skins for Gamougg: Blue, Green, and Necromancer (which is a palette swap of Cryomancer from Taile Gamougg 3)
Changed the parallax to 70
Added an outline for ladders in level 5 so that you can see them better
Finally gave the gun a name after all this time: the Chadrifle.
New cover art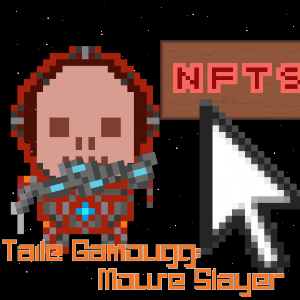 Level 5 is totally finished! It's over! Now you can beat the entire game just as it was intended!
I'm adding Costume Statues to this game! They were such a revolutionary idea I came up with as a new feature for Gamougg 3 that I have decided to bring them to the other titles. Only 2 have been added to this game as of this post.
woh,you are not the best at art…or are you only using your power at 5% to fool us so you can strike when least expected…

That was not my best art. It was simply a storyboard.