That was not my best art. It was simply a storyboard.
Actually yeah that's kinda true
I'm making this into a comic now! It has some of my best art yet.
Click to reveal pages of the comic












Features Estella @00T_Free
But where Backround and shading ?
Bruh. Both of those things are there lol
TGMS Update(s) 2022-04-02
I haven't really updated this game in a while. Without further ado, let's get right into today's changes!
Read more

The highlight of this update: a new weapon!

This new weapon is called the Natural Predator Sword. It is a sword forged underwater with a seastone hilt and a glistening, shiny, orange bananium (a type of fruit scented metal found in the jungle) blade.

---

Made from the same materials and built by Gamougg after the journey, here is the Natural Predator suit!

---

The second Costume Statue added in this update is the Parallel Concept Costume Statue. This suit does not exist in this universe and therefore isn't part of the canon; instead it is a concept for a new style of Gamougg.

---

The final significant update for today is a bug fix. I fixed the bug where the the final boss' minions wouldn't spawn using a single message behavior. Can't believe I missed something like that.
The last one looks like the Gamougg from your comic
Whoa lol I didn't even notice that

Comparing now: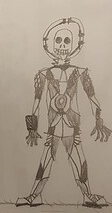 Dang. It really does look similar, right down to the more realistic skull. I swear it is a coincidence. Cool though.
Especially the middle of the suit.
I should mention, the final boss is way harder to beat now after the bug is fixed and she spawns the Slime Enthusiasts. By the way, has anyone ever beaten this game? Just wondering.
???

Yeah I have no idea how that works lol