I unfortunately won't be able to change the base sprite because all the animations are done and it would take forever to change
Remove the timer. It runs smoother.

I'll just put "always" instead I think
Patch Note 1
I just have to buy Indie, and we'll have the dragon selection complete
-Added egg choice
-Added game save, so when you already have your egg chosen, you don't arrive on the selection menu when starting the game
-Added "Wipe Save", to completely restart the game, and "Menu" buttons
The wings should be down when walking, and also it'd be nice to be able to fly a bit faster.
Patch Note 2
-The Northern Firebreather finally breaths fire (Hold spacebar)
-Improved saves, so they won't wipe away for no reason anymore
-the flying animation now triggers as soon as you are in the air.
Instead of the flying triggering the velocity, trigger the position. This makes it so that you can stay in the air

hmm, I thought it was staying in the air anyways. Maybe a bug
Patch Note 3
-Started a fire bar that has to regenerate (approximatively 5 seconds cooldown) to keep breathing fire, just like AMMO. It's beta, don't try right now.
all good, it looks great as it is !
Thanks, it means much, it's my first sucessful sprite
can i just say the dragon animations have always made me frustrated wspwcially the wings so ive been sticking to indonesean and chinese as they dont require wings lol but now i know how 2 do it!!! Thanks @Cactus_Studios_Games
I'm really glad to hear that, honestly
You should connect the hit to the off on the s button…

Then connect the miss to the on…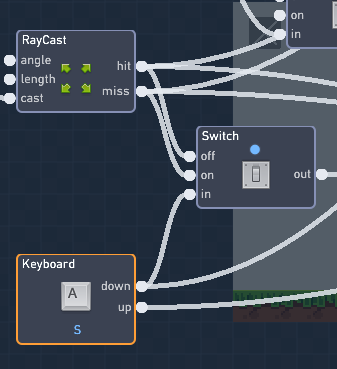 It won't work, when I'll touch th ground, I won't be able to go back in the air