No, I mean it's GREY AND MECHANICAL

TSOA 2 has a brand new Game Jolt page. This is the first place where demos will be posted + where the first full versions for early access will be sold.
https://gamejolt.com/games/outerheaven/806985
I'll be releasing a new downloadable demo for PC soon, so watch over the Game Jolt page.
New walking animation. Look at him go
so juicy

A new weapon: The reqblade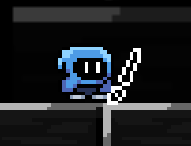 Oh yeah I made it blue because I used your small 16x16 pixel sprite as a reference because you hadn't made the big drawing yet.