When it said it was focused on "yeah you know" I was like :0
(Yeah I didn't read the whole thing so…)
**** it. I'm making this game from scratch
(not to be confused with the game development software known as Scratch).
New Gamougg design! Same suit as the original Gamougg 4, but drips way harder



Ok, actual game development has started. The game is being developed by me, @nhgcr_for_the_3rd_time, and @117JOJO.
Here is the game page background:
The game also features a reskinned version of the Jump Continuer from Taile Gamougg Anniversary.
Fun Taile Gamougg Fact!

Skeleton women are actually more muscular than men in the Taile Gamougg universe. This is because they consumed far more calcium than men after the Great Calcium Conflict of 1851. As a result, skeleton men were for forbidden from eating or drinking calcium for the next 20 years after this conflict. The effects of this punishment are still seen today.
(Lore intensefies by 55%)
im gonna need more elaboration on this Great Calcium Conflict
Yes a tail gamougg preguel!
I've cancelled my plans to put the Chadrifle in the game.
I realized that this would make no sense canonically because Gamougg doesn't get the Chadrifle until after Taile Gamougg 4, and because its the events of TG4 that cause Gamougg to earn that weapon anyway. It also fit better with TGMS (Taile Gamougg: Mouse Slayer) more than any other game , especially with its weapon mod upgrade system.
In other news, I plan on bringing back the Costume Statue feature I introduced in taile gamougg 3's Massive Overhaul update and later added to TGMS. Please let me know if the main menu animation hurts your eyes:

I just playtested and realized that the clamber ability is gone!








but now we have
D O U B L E J U M P
Here's a preview of Gamougg's house: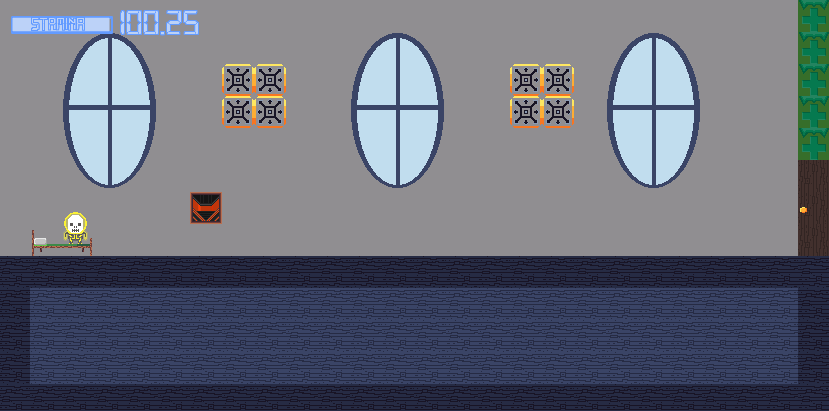 And if you were wondering, I have the classic taile gamougg 2 skin equipped, which brings me to my next announcement- regular costumes are going away.
Let me explain: instead of regular "press a key and change your appearance", there will be a new feature called Costume Sets. These are basically the same thing as the regular costumes, but pressing a key will select a random costume from a set of costumes.
Each costume is one frame, and each set of costumes is one animation. This gives me an excuse to draw Gamougg a lot more and opens the door for content to be added to the game post-launch.
While I still presumably have your attention, let me announce the other three playable characters: Pro Gabrielfo, Gia, and the new character whose name @Ramshackle voted on- Aurora (sorry, don't think she will be playable in TG1A anytime soon). You can technically play as any character during any part of the campaign, but the game will not tell you how to swap characters until said character appears in the story.
more like gamouggs\your MANSION
it should be the old press key for this costume but one key should do the set thing.
So you mean both? Hmmmmmmm. I'll consider it, but I think the set one is better because it gives more content to the player and I can release new skins whenever.
Actually nah, its a small house. I live in a nice house irl though, and I'm grateful for that.
I still miss clamber (I'm a Halo 5 fan)
so is this game out yet?!?
Nope. It's not even close to beta, but the first three levels are done.