Very nice! Could be a game.
What do you suggest as a possible remedy for the stairs issue?
Are the cracks too dark? Maybe need fewer?
lonesable could you make a animation with a octopus
A border may not work since they are small, but since every other object seems to have one, i'd try it out firstly.
Haven't got to this yet, but just a few gameplay notes:
Water is able to be fazed through,
and I would leave his mouth static when he moves as it's quite distracting to see it sway when in motion.
It's not bad, but I'm seeing a lot of noise in there. you'd want to make each object look like it's a separate object and not blend so a bit of contrast would help you out a lot. I know adding lots of details like cracks in the pavement is enticing, but it can easily end up looking noisy and messy and not super recommended unless you really know what you're doing. you can do a good job making it look in ruins without adding the extra noise tho!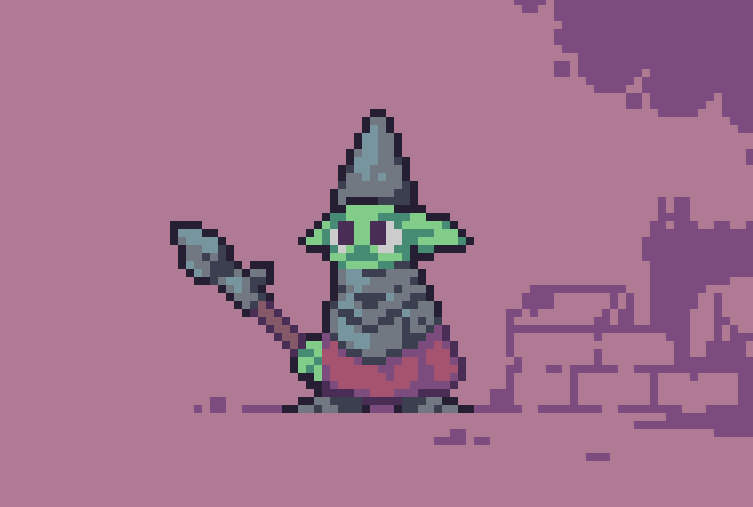 I made this just yesrerday; look at the bricks and ruins on the side. they look damaged without adding too much detail. you can mess with the outline and make them look chipped without adding pixels in that just make it look fuzzy
hope this helps!
Apologies for the lengthy pause in this thread, had much going on.
I haven't begun the gun barrel element quite yet, but here's the first look at your logo animation @John_Shrekinson
//for sure let me know of your thoughts on it.
Thank you very much! The skull looks a bit cracked and that's not very reminiscent of Gamougg, but I like it anyway! Thank you again!
im not john shrekinson but to make it more realistic you should make the jaw move back and forth slightly.
(when he is talking)
okay random question but is anyone else aggrivated by @DWGAMEMASTER calling everyone Mr Sir every 3 seconds?
Nah the jaw opens and then the gun pops out to spell the letters. This is symbolism to represent my primary game mechanic in Flowlab: guns. I have been Evolving Combat for a long time now.
Also stop going off topic @TheDukinator; go ask that question here.
yea ik but i was mostly talking about that current animation with the talking. the cannon hasnt been added but to make the talking more realistic…
Alright, take the cracks off- anything else you'd like to see changed before I move on to the next element?
any progress on my request? it has literally been weeks -_-
this topic died, wouldn't be surprised if they haven't even started.
but i asked when it was still alive, and they asked me questions about it