Well I like the art and animations but here are some things I notices
Whenever I clip the side of the pipe I get launched into the air
No sounds?
Maybe put a start button?
It's a great start!!! As good as sounds could make it my own games don't have any so I have no right to complain there, also close off the left so players don't fall out. Over all I'd say keep going, I want to fight Bowser!
Same.

Now when it comes to rescuing Peach, someone else can do that.

Nice! This Mario remake feels very smooth compared to all the other ones in my opinion.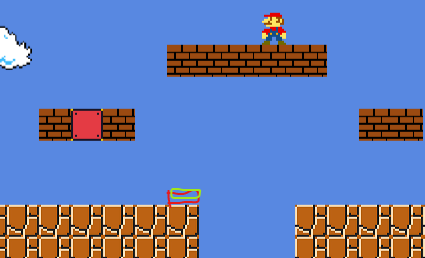 I think you should add a short invisible but still solid half-block there to stop the Goombas from falling off at the edge.
If I'm not mistaken, I do think that Goombas walk off the edge, at least in the original Mario. Same with the green koopas.
I think the Red koopas are the only ones that will stay on their respective platform.
I was planning to add a ray cast actually so they wouldn't but thanks you for the suggestion!
Yeah, that would be pretty cool, i just need to finish my main blocks then i can get into the fun stuff!
Actually im bad at ray casts ima just let em fall

That's actually good in my opinion, since in the actual mario bros all enemies fall off ledges unless they're a red koopa troopa. I love the mario series so I know this fact by heart.

The canon is now stable. (That was a reference to a movie by the way)