Nice, I just played it, are you planning on adding any enemies
Yes… But not yet. Currently making the character.
I've added my first enemy!!! It's a Delta Cadet Tank MK1!!!
(The Delta Primes are basically a group of high tech warriors. They're called the Delta Primes because there are three leaders to their evil group!)
I'm using the same object for the rocks.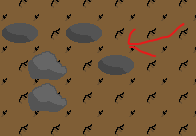 All the bushes are also the same object too.They just have a random animation on.

The stars are the same object too!