Old: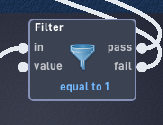 New: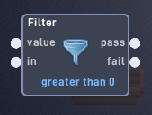 I like it!
I don't mind it.
I hate it!
For 1 framing purposes, it's great, but I will admit it messed me up earlier today. I attached the inputs to something and thought "hmm, why didn't that work?" I had messed up the inputs and had completely forgotten they were changed until now. Good to know my muscle memory was working properly
Besides that, it will of course take a few days to get used to, but after that it will help with 1 framing issues, because I've noticed a lot of people seem to struggle with it, causing problems in their code.
Didn't even notice it lol. Maybe that's why some of my code hasn't been working

i never realized they were swapped and thought i was going nuts when i realized i connected all the inputs wrong
It was changed I very recently with the last update, but all previous filters still work fine
This doesn't effect any old filters, but I was astonished to hear that some folks don't like the input order with value on top. Keeping in mind that the top input gets evaluated first, the advantage to the new version is that you can set the value and then check a comparison in the same frame.
I couldn't actually think of a single up-side to having them reversed (value input on the bottom), so I would like to hear about any advantages, so please let me know

This update definitely didn't break any existing games, it will only affect newly created filter blocks.
Yeah I know kinda worded it weird. What I meant was that maybe that's why my current code hasn't been working since a lot of the connecting wires is just muscle memory.
Can we get this for the Emit block please too?