Hey peoples
Here's a link to the map game I created:

The problem I'm having now is for kids who want to play it on devices such as phones or tablets. Instead of the game scaling down to the size of the browser screen, the game is cuts off and there is no way to scroll and see the rest of the game. Here's an example: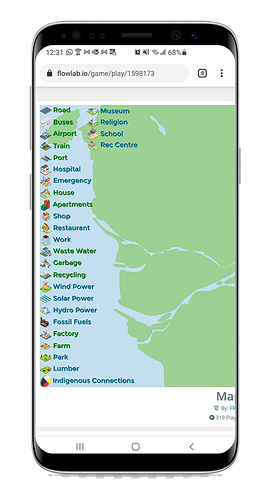 So here're my questions:
Is there a way to simply scale down the game without using browser zoom controls? or make it automatically register the size of the screen? (a lot of the kids playing are using different browsers and devices and they are not in the same room as I am)

If not, is there a way to create a camera that follows a click and drag motion on the background? (clicking anywhere in the map and dragging to see the rest of the map)
I realize I could make the map smaller and have a camera that follows an invisible sprite that is moved around the map using key strokes, but the problem is that if you're using a phone or tablet you pretty much only have click and double click options.
Any suggestions are welcome, even if the solution you think of has nothing to do with how the game is displayed on the browser or dragging a camera.