Today is @Baconcat008 bday! Throw down some dank memes or howdy-dos and wish him a good one!


Happy birthday Baconcat, eat lots of cake

It's mine too today lol
We're twins!

u must have turrets
Happy Bday bacon buddy!
what is that supposed to mean.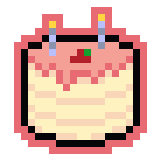 his most favorite thing in the world is turrets from portal 2
Ayyy happy birthday kiddo!


I like the potato

Happy birthday, on behalf of the Musical Community!

Happy birthday, on behalf of the Off Topic Channel!
And finally, happy birthday from us, the ota.
I saw the hair one and there was no way in hell I wasn't gonna use it

Happy birthday @Baconcat008!