Where's the helicopter though?
it may have been launched outta bounds
I can't play the game at the moment, but I'm exited to see what you have to offer!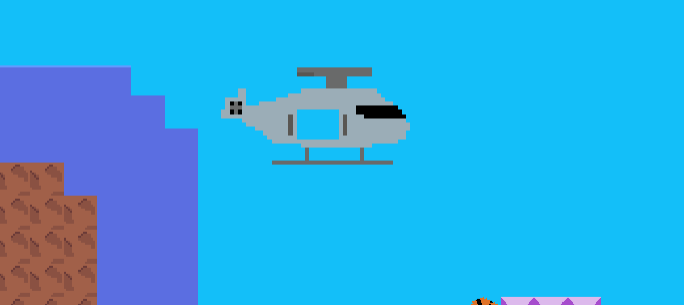 I had quite a bit of fun with this little experiment! Very relaxing music, but I think I recognize it from some other game (or something else). You should try adding you own! It's hard, but the end result is always satisfying
I was bored, so I changed up the helicopter a little bit, you can use it if you want. Its not a huge improvement, but I thought it looked okay


Better? I guess that depends on opinion, but I think I like the aerodynamic look a little more.
The back rotor looks a little chonky


Try slanting it a little

It's pretty good, but I do have a model helicopter and they are a bit longer, especially the tail. The body looks proportional, but I can't tell what you had in mind with the door. I would suggest making it look like a panel from the body that slides down like that of a Hughey gunship.
Damn. Someone knows his aerial transportation

I was kinda just making random "improvements" to the base sprite, not going for anything in particular
i like it thanks but too many basket balls?
i tried my best to make it look like a perticular attack helicopter exept the miniguns detached
didn't do so great did i?
You did good, I was just giving extra ideas and such
this is kinda cool i didn't know you can shoot with the space bar
I didn't know that either. Also, why do you have a new account?


Either that or there's another spacecows out there somewhere
what, i don't know who your talking about

i'm new on flowlab someone recomended it to me
Understandable, have a great day and welcome to the Flowlab Community! hihilogic was referring to @spaccows202 who has a very similar username.