If you have any suggestions post them! Also if you find any bugs also post them.
No, I died to death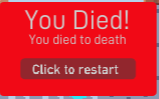 I don't like this game. I'm not much of a graphics guy, so I can get past the art. For this game, its the gameplay that bothers me the most? Why is Press Spacebar to Pause always on the HUD (Heads Up Display)? If Rolly is a living ball shouldn't he be able to control his rolling and stop himself up to a certain extent? Otherwise this is a good game. Decent, and a nice try. I sincerely hope that you will improve, and bring joy to others through your Flowlab game. That about concludes my review, and thank you for sharing this interesting game!
im still new to game development so i dont know how to do that
it's pretty fun, except its gets annoying when you die and have to restart the whole game
still figuring a checpoint system
there i found out how to do it so i hope you like the change Braden!
woohoo thanks!
Also another suggestion: You should earn a ring whenever you destroy an enemy
wait smile yayayay you got your acc back
Yup, grazer found a payment by me, and got my acc back, very grateful.