Okay, I have a bit of an obscure problem here. I'm trying to make emitted projectiles from my hero character pass through certain blocks in my game, but it's working only sporadically or not at all. Here's a screenshot of the problem area: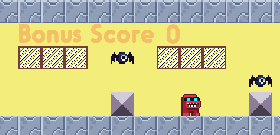 The greyish-purple blocks in that screenshot are "horizontal colliders" intended to confine the red monster as well as become invisible when the game is run, so that the red monster will always keep running between those two blocks. The colliders are treated as non-solid but still allow collisions (which is necessary since the collider wouldn't work if they didn't allow collisions).
However, there's one problem: when I get my hero character to shoot a flame sprite at the monster but the invisible collider block is in the way, the flame sprite stops dead in its tracks.
You can see that in the screenshot below; the flame sprite is just about to disappear while travelling to the right.
Is there any way I can add an exception to the behaviours of the flame sprite so it passes through collider blocks but not anything else? Here is a screenshot of the behaviours I've added to the flame sprite's behaviour window: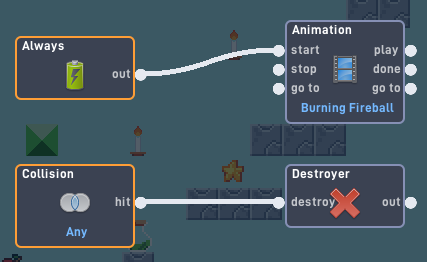 I'm still new to Flowlab and want to know if this will involve me needed to put in a lot of work to make this exception work. My Flowlab game can be found here.