i have no clue how to. So if anyone could help me?
Keyboard shift → set the numbers of movement higher
like this?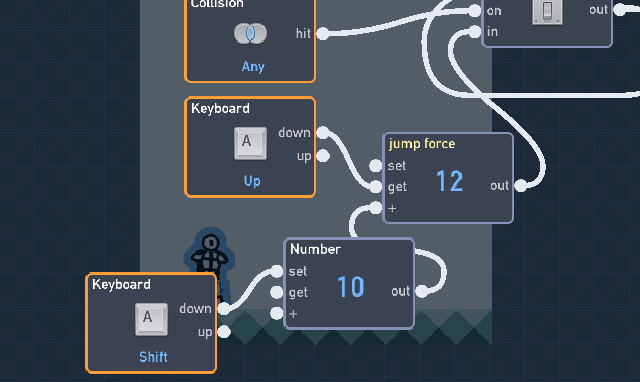 Not at all. You get the first number, and set the second. Plus, 12 is larger than 10.
…
i have no idea

i???
Basically, you currently have the keyboard output going into the set input of the number, which does nothing but change that number to 1. What you need to do is send the keyboard output to the get input, which will then send that "10" through the output and into the second number. Then, what you should probably do is send that number output into the set input of the "jump force" number. This will set the number to whatever that first number is. Also, make sure to change the first number from 10 to a higher number, like 20 or something like that, so that it will set the jump force to 20.
Does this make more sense?
Also i forgot to mention that you are changing the jump force not the movement
im kinda new to these game making stuff. thxs for help