I'm trying to go above and beyond here. I just figured out that I can make custom blocks by editing them when I import them. In doing this, I'm trying to design a switch, but this switch also has outputs branching off the OFF and ON inputs, which should basically look like this: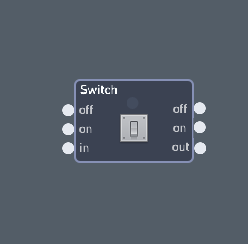 The only problem is that blocks (most likely) are grouped by type, and therefore might not be able to accept more nodes than allowed…
If anyone knows how to do this, can you give me a lesson on how to do so?
People that can probably do this