can you please add robot dinosaur summoning attack for the bad guys
no thats a joke too i was wondering what the combiner could do!!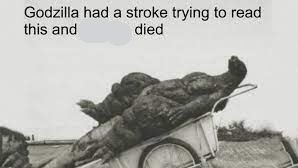 Bro is basically saying that he can't understand your poor grammar in your last post
just launched a 4k Trailer on a game im making with unity called bionicle reborn that my brother made and me but i aint goin show it to you bc your going to make memes on it anyways just wanted to tell you i launched it

PINGS

@John_Shrekinson @nhgcr_for_the_3rd_time @117JOJO @PhantomWolfMoon
it is epic… TO WATCH YOU SUFFER MHAHAHAHAHAHA
Uchuu Sentai Kyuranger balls
Can you please stop pinging me? Thank you!
In the 2017 entry of the longrunning Super Sentai series, Uchu Sentai Kyuranger, the rangers use spherical devices called "Kyutama" for their weapons, gadgets, transformations, etc.
?!?! what no thats a joke too. stop giving me jokes
HUGE ANNOUNCEMENT: FNF ENTITY (OUR VERSION) IS MAKING A COME BACK WITH BREATHES IN HUGELY NEW MECHANICS SUCH AS SHOOTING AND DODGEING ATTACKING SWORDS COMBO MODE (STARTS BREAK DANCEING) AND MOSTLY NEW SPRITES, ALL MADE IN UNITY!
Joke Rifle (the bullets make funny noises when they hit people). The people could also die of laughter when you kill them with it. This gun has a lot of funny potential. It can even strengthen your funny bone more than milk ever possibly could.