It is my first time playing flow lab, so I tried my best and made this game. Please appreciate it!
it's a really good game for a first game, but so people don't break their ears you might want do use the sound more like this: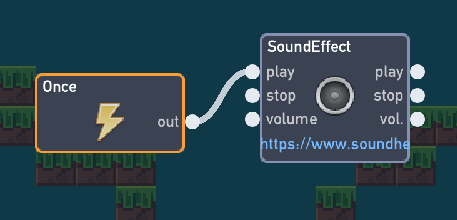 put the sound block on repeating maybe?
Can you show me a picture of that? I don't know how to do that… Do I just click and edit it?
Hey, welcome to flowlab!
The link must be a direct link to a song, not a website, which is pretty hard to find these days. I recommend using a premade song or importing. I have some music links and downloads made by myself and others that you could use for free!
Thank you! Can you show me one of the links or downloads?
How do I import that? Also, I am sorry for all the questions. I just started.
Boi this is good stuff. I'm in flowlab after a year and still can't make stuff this good!
No problem, that's what we're here for!
If you download the song then you can import it to the game. Copy url links if it's just the song.
Thank you so much! I just started today. And also, ok, I'll do it.
Oh jeez. Ok that's insane.
I copy-pasted the URL,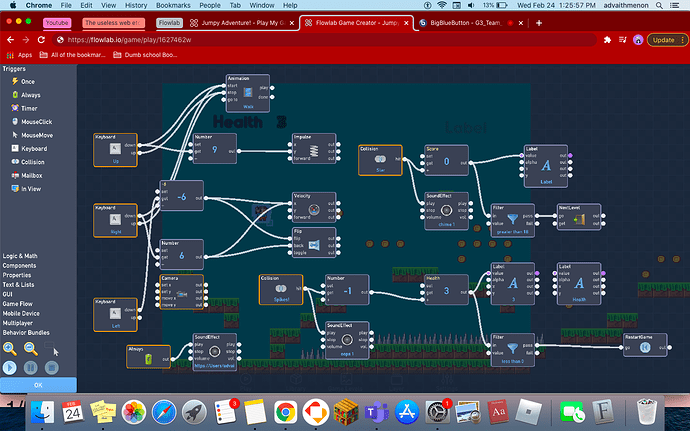 but It isn't making sound. Look:
https://flowlab.io/game/play/1627462w
I don't have an account and will never get one. I could just have no sound for my game. Or you could update it. I'm sorry.
I have one more thing to say, could you give me an idea for another game?
I don't necessarily like using generators, but if you want one here it is.

I recommend finding some sort of
story,
flesh it out,
then
make a game off of it. Or, just try getting a concept noone has ever done before! Here is an example of each.
Now I feel better. It will take some time, but I will make something of those two and post it. But only on a different page. I'll tell you that soon. I can't reply anymore.
What should I try and do?
A racing game
A Fighting game
A Clicker game
also, never use the always trigger on sound blocks.