i want to make is to that when a counter gets high enough, barriers disappear. how can i do that?
Welcome, @Jfattore2024! I'm not really sure about the numbers part, but if the barriers are a separate object, you could use the destroy behaviour. Me and/or other people could help you better if you gave us a link to your game. May you please send a link?
Constantly pass your number through a filter. In the filter, place whatever number you want in the value. On pass, send a message to the barriers. In the barriers, create a mailbox. Connect a destroy to the mailbox. Bazinga

i tried it, and it didnt work. i connect the filter to "out" on the number right?
Show me your code, and if you could it would be better if you could give me a link to the game.
"skinny guy" is the character, and "door blocker" is the barrier. "weight" is the counter i need to get to 100.
Ah. You have put the number in the value, so it'll never be bigger than itself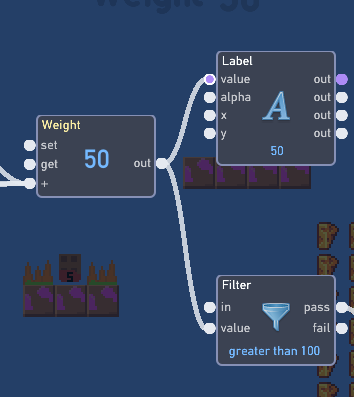 Put the number in the "in" of the filter. Have a nice day.