Hey its me the guy whos starting new projects and never finishing olde ones! (dont worry im making smol progress on my projects behind the scenes.) anyway, im making an rpg where youre this lil guy: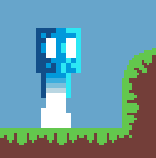 the main mechanic is supposed to be, that instead of grinding xp you buy skills that are exchangable, but
you can only equip a certain amount of skills: 1 transportation (cuz you cant jump), 2 attack, and 1 passive attack (like a punch). if you have any ideas for it lemme know!