And the rest of the people interested
How can you buy a flowlab gift code? I've never seen it on here
I only link to the gift card page around Christmas, but you can get them any time of year if you want:
gotya tyPreformatted text
Its A Tie for Monday and Tomorrow at the time I am saying this.
So, whoever wins is going to get a code and from there you can redeem it or is there another process because I can't find a redeem code place just to make sure.
my indie ended a few days ago, so i'mma be participating
I'll close the poll tomorrow and see what wins.
there is a redeem page, i will give you the link if you win.
np
@BradenS I don't know if you had said it before, but how long do you think the booster jam is going to last until its over? Like how many days will we have to make the games.
2 weeks.

Okay guys, I said I would end the poll today. Looks like random chance decided by 1% that the Booster jam will start on Monday, January 23rd.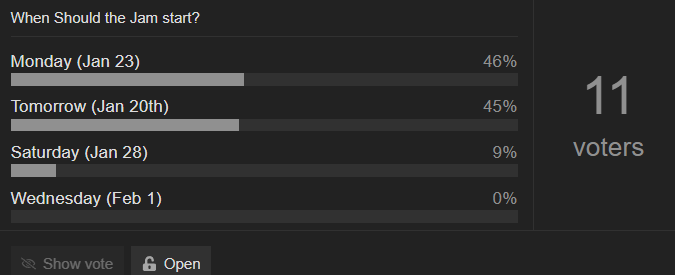 pings

@ManiacPumpkin @Teaslee @nhgcr_for_the_3rd_time @ShadowGaming @pixelknife31 @KaptainChris @MoneyPenny @puginarug @CarbonSoda
WOOOOOOOOO





Official Info:
The Booster Jam will start on January 23rd and end on February 6th.
The theme will be revealed when the Jam starts.
You will then have two weeks to create and submit a game before the Jam ends.
nooooo I wanted it to start today
Epiccc! I am most active to making things on the weekdays anyway lol.
I'm participating/not really/kinda.
Basically, I'll participate as an upgraded user, as a way for me to just make a game… since I struggle with forcing myself to do so. I obviously can't win the prize, and I also obviously don't have the limits of a free user. I'm just going to use the jam's theme, 2 week due date, and the challenge, as a way to get myself to make a game.
I have sad news… I had to delete one of my old games, the very first penguin penthouse to make room for this, I already have a concept idea i wanna try out, it can basically fit with ANY theme, but the thing that started it, is gone…
Alright I'll join, this will definitely save me a lot of money.