You've already made a discussion about this…
Yeah… just refer back to the previous one…


Plus, people can't freely edit your game, you have to put them in a team and enable team access.
Like a dpad because swipe wont work properly
Honestly,nevermind. I ask this because i dont have a computer and i want to try my games and i dont know if they work or not. Sorry to be a bother.
If you want a D-pad, you could create 4 buttons in the user interface that uses clicks.
The mouseclick block works the same for touch-screen.
And yes, they will work on touch screen devices.
Ok,ill try it,i started flowlab 17 days ago
You want to use messages to tell the player when to move by click the objects. Something like this:
In the button: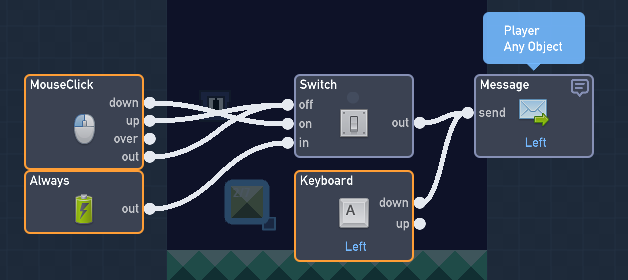 In the Player:

OMGGGGGGGG IT WORKED THANK YOU! ITS EXCITING BECAUSE I STAERTER 18 DAYS AGO!! Thanks!
Ok you dont have to buttttttttt… can you teach me how to do jump 'v'
It would be the same set up if you made a jump button,
you just need to make the player jump when the button is pressed (impulse).