Im trying to add transitions between levels but I cannot figure out how. Could anyone help?
Make a black rectangle come down then in the next level have a black rectangle come up.
DO you have an example? because im kinda confused
Put this code in the black rectangle like Pixel_Name1 mentioned.


This will make the rectangle fade in. You should put this in the next level. At the end of the previous level, put the same thing but flip the numbers around (switch the places of 0 and 100).
Just call me Pixel_Name because my name changes every couple hours for some reason
Multiple people have the name Pixel_name, so whenever one of them comes online your name is changed to Pixel_Name1 so they are different (It would be Pixel_Name2 if you were online second)
That's what I said to Pixel_Name but seemed like I was ignored.
and the transition thing, yeah, that's what you should do.
Oh that's what you meant sorry I took it another way.
Ok, I'll do that. By the way, what is the sauce for that GIF in the background?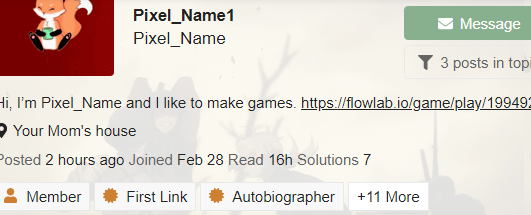 Oh alright, well @John_Shrekinson it's from an anime called Violet Evergarden.

Oh I watched that! How come I didn't recognize it

Lol, cause it's a war scene and isn't that common to remember.

And also maybe because I watched it 2 years ago

Yeah maybe that also, lmao.