Congrats! You discovered the secret kaleidoscope mode! This event only happens very rarely; some Flowlabbers have never seen it in person! It's so rare, even Grazer doesn't know how to turn it on!
I can't say it's a rare occurrence, at least for me. It's happened at least half a dozen times to me.
I've only ever seen it once in all these years. That's chances for you. Quick go buy a lottery ticket or something
I've had this happen to me dozens of times, probably 1-2 times every 2 weeks
Maybe it depends on the complexity of your branches? I have TONS in this one
How often do you cut and paste pieces of your code?
sometimes, and yes that might be it
That's my hunch, but I can't confirm. I don't use cut and paste super often (Just copy), so that might explain why some other users see it more often
I think I've nearly found a way to replicate this bug
always happens when you are using bundles
if i knew that is rare i shouldered take a picture!
I have had this happen to me at least 20 times.
Yeah, same here, although a bit less

That is the strangest Bug I've ever seen:)
Now it just happened to me. I don't think it depends on the complexity of the branches because this is one of the simplest sprites in my game. (And this one has no bundles either.)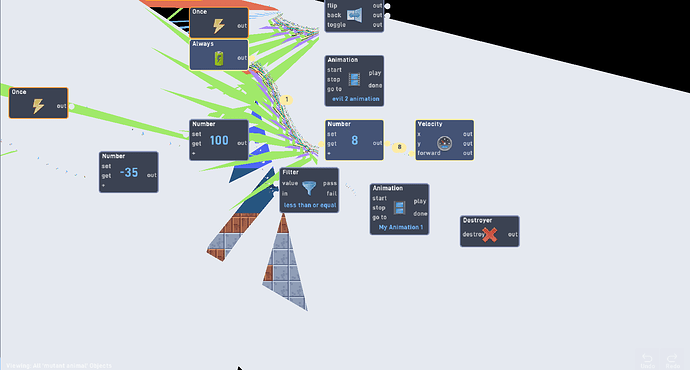 it has to do with flowlab closing a page that has something already selected, and it causes a bad load.
it can happen many different ways
the only way i've specifically found is to close a bundle while you have your mouse on the wire (to cut it) at the same time