We are getting too many topics and posts about bugs and issues. To help organize a checklist, I will be making a list of confirmed and unconfirmed bugs. Please feel free to test these yourself, and contribute your own bugs to the list.
Thank you.
__________________________________________________________________________
CONFIRMED
A dash - means that grazer has also confirmed the bug, and has been checked.
(These bugs have been tested several times by at least a few members, or by myself, and do exist.)
[spoiler] I will be double checking all the bugs I know of, when I get the chance. They will be placed here, after I have tested them on both Chrome and Firefox. I just installed the newest version of adobe flash player. I will have no other programs or tabs open in the background, to reduce outside lag. I will also be testing these bugs in my debug mode concept, when applicable. If you wish to try it yourself, set every key and action as a number, so when you activate it, the number displays on a label. There is a claim of collision not working, so I can have each collision display a number on screen, so I can prove I'm touching one or more collisions, and if the action did activate, even if nothing actually happens, as a wire could be disconnected or plugged in wrong, somewhere. [/spoiler]
Animations are desynced in old games, but work almost perfectly fine in new games. Even off screen animations still almost always play without starting at the wrong time.
Cutting wires opens pop-up circle in editor.
- Timers are desynced, and do not always start at the same tick as other timers.
The mouse assumed location will be very far off to the left of where the mouse cursor actually is, when editing a game in the Firefox web browser.
Some games that previously worked flawlessly now have massive lag spikes and become entirely unresponsive to controls, eventually freezing your web browser.
- Rotating objects in older games rotate off-centered.
Attached objects do not receive messages.
Emitters sometimes don't emit the direction correctly.
COMMUNITY TESTED
(These bugs are not confirmed nor unconfirmed, but have been tested by several people in the community, and likely do exist.)
Android apps crashing?
UNCONFIRMED
(These bugs have not yet been tested by either grazer nor I.)
All currently known bugs have been tested, proven, or debunked.
DEBUNKED
(These bugs have been shown to not exist for others, or could not be recreated, and may be a result of the game itself having bad wiring.)
Collision on both ends
Sound looping when game is not playing
__________________________________________________________________________
If you have any other bugs, comment them below. I will add them to the list.
@grazer, I will pin this post to help others contribute to it easier. Once you have the list copied or checked off, you may unpin and delete the topic. Give it until the end of the month, since this is a September 2017 buglist.
BUG TESTER
[spoiler] Here's a build of a simple Bug Tester engine. You can clone it and use it yourself.
Directional Keys
(Use to check if your buttons are being pressed right, if something they do is not working.)
Up = 1 ; Right = 2 ; Left = 4 ; Down = 8
Collision
(Shows a collision marker for 1 second. Use to determine if you are actually touching an object.)
Bottom = 1 ; Right = 100 ; Left = 10 ; Up = 1000
X/Y Velocity
(Use to check your movement, jump, or fall speed.)
-Left +Right ; -Up +Down
Bug Tester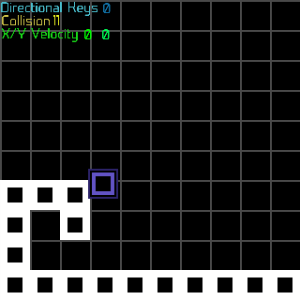 [/spoiler]