Hello Everybody,
Today there are not updates yet, but I am just here to talk about other stuff and changes I am going to add to my game. For me I know my skill of art is not really good on paper or computer, So In order to walk around it I been to make simple pixel characters. I just can't seem to make advanced pixel art…Yet. Another change will be, is that this will not be platformer but top-down. I realized top-down in my opinion is good for showing the setting of the game and gives me more space in the edit space. I wouldn't call this a change but something I like to add. Shields. Now these shields wouldn't only protect you but you can use it as a weapon. There will be a skill tree for this. I don't know what a shield could do.
---
Update will be coming soon.
---
Hello,
This is not a update again. Sorry but I think I need some help. I am getting low-motivated once more and keep getting stuck on art. I am trying my best to try to draw the character but it is not going well. I feel all over the place, like my head is stuffed with rocks. I think i will have to pause this game for now and really focus on pixel art. Don't worry I still have all my characters and enemies in a big folder, So I don't think I will lose any progress. This last few days I only got to make a simple walking animation, jumping animation, and attack. I even made the enemy movement. But I can tell you the pixel art stinks.
GODZ seems like he needs help i think
I think hes going to make it
I can totally help out if you have problems with your pixel art! I'll give as much feedback, advice and pointers as you like for helping to fix up the stuff you don't like. as a baseline, the saint11 tutorials are really good for getting the basics down (:
Just send me stuff or ask me things and I'll try to help you understand it better so you can fix it!
I follow the saint11 tutorials, and tried to improve as my own. But it does seem to work. What art style are there?
Well its kinda hard to just list pixel art styles, itd be better if you showed me some of the stuff youre trying to improve and i can give some pointers for things you might want to focus on or look out for
Ok thank you, I will show you some of the stuff I have done soon!
First I really want to improve the character out of the other stuff.

the overall form looks really nice, good job on that! I think the places where you might want to polish it up is by smoothing out those jagged edges. the hair spikes have random pixels dangling and the curves aren't very smooth. other than that, adding a layer of shading often makes something like this pop. just a slightly darker color. also that wasitband is kind of a mess, you want it to show the volume of the body, you want it to look like it's going around the waist instead of being pasted on to separate the torso from the legs. oo you could also add a little highlight to the eye, adding the occasional tiny detail brightens it up nicely (:
see if that gets you anywhere!
Hm Ok thank you I will try to add improvements to my character, I will keep this in mind for my other sprites.
The highlight is the white thing in the eye that makes it look like light is shining on it. Some art styles, such as the classic Scooby Doo art style and other dot eyes, choose not to include the highlight. Baron Wasteland was suggesting that you add a highlight because sometimes dot eyes like yours can have them too.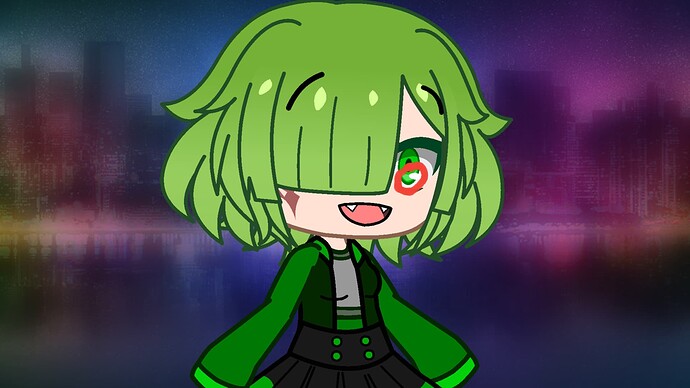 Thank you I will also keep that in my mind, thank you again weird green hulk-skeleton
Is this better @Baron_Wasteland ?