(This is an old post. You can check the newest bundle here: New Ease Bundle! - JR 01 - Examples & Tutorials - Flowlab Community)
Hi everyone! We just created a new Ease behavior (it's a bundle)!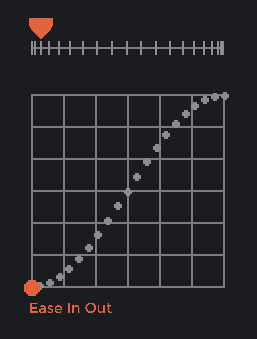 Link: Flowlab Game Creator - New Ease Bundle (previous)
Created by @PixelPizza, @CrimsonBlackGames, and @JR01
---
This bundle has a few more features than the regular Ease behavior:
Inputs
From: The starting value
To: The ending value
Speed: Determines how long it takes to complete the transition from the start to end values (speed 5 = 20.0 duration on the regular Ease behavior).
Stop: Completly stops the Ease interpolation.
And you can update any value while the game is running!
Outputs
Out: A newly calculated value is sent to this output every frame until the " To" value is reached
Done: This is activated when the easing has completed, and the To value has been reached
(Documentation based on the "Flowlab User guide: Ease behavior")
---
Feel free to add this bundle to your menu, and use it whenever you want it
We will probably add more curves/interpolation modes in the future.
This was based on this feature request on the Flowlab Trello:
https://trello.com/c/sSBTHh2e/433-add-ease-out-option-and-inout
---
Other "Advanced/Secret" features:

• This bundle works as a "Completion Bar", it goes from 0% to 100%. Therefore it's possible to extract which number would output at 25%, 50%, 60%, etc.

• You can change the filter from "greater than 100" to "greater than 200", making it go back and forth (interpolation: to-from-to).
You can use this to animate a smooth hovering animation or a smooth Alpha animation.