Wait… aren't they squares and not cubes?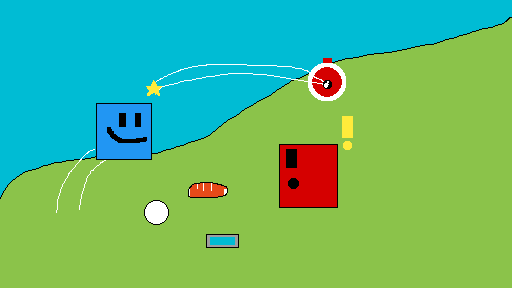 Pixel Sports
In this game inspired by Drive Ahead! and Geometry Dash, you get to play as the blue cube and play 5 sports - Soccer, (American) Football, Hockey, Golf, and Basketball - and score up to 5 points to win against the red cube. Or fight against the boss if you are looking for a timed challenge. Show the red cubes who is the real boss, and get enough coins and jewels to buy your own outfits to play in style! But you better not find my vault! It's a secret… Play Pixel Sports now.
Beta 1.6.5 is here!
Changed the textures for the shop entrance. This is in preparation for the new shop coming in Beta 1.8.
New dialogue when successfully completing a purchase, or when (SECRET)
Labelled the Daily Loot and Daily Boss Icons
Finally, the Golden Cube Outfit is available for purchase for just 3,000 coins
Red Cubes can now wear the same outfits found in the shop
New "bounce" animations when the cubes jump[/spoiler]
This will likely be the last Beta 1.6 update before Beta 1.7: Local Multiplayer Update.
I will TRY to get the Cursed Dimension and Events finished by this update.
I am also planning on making a legacy update that will allow you to play the game how it was originally made when I first created the game, and allow you to wear outfits celebrating the game's history.
Pixel Sports Dungeons
No, this isn't necessarily like Minecraft Dungeons. This game is more inspired by the dungeon levels from a very old game.
From Monday-Thursday, Pixel Sports Dungeons will open up only one level exclusive for that day. In that dungeon, your goal is to survive waves of Demon Cubes trying to catch you and destroy you and your buddies. Yes, Pixel Sports Dungeons is a multiplayer co-op version of Pixel Sports. Play as the Blue Cube, Red Cube, Boris, and Master to show these Demon Cubes who is the real boss. And you guys have a nifty little tool to help you destroy said Demons: the Sawball. A symbol for Pixel Sports Dungeons, the Sawball can destroy the Demon Cubes.
At this point in time, there is really no reward for playing Pixel Sports Dungeons at all. Right now, it is more like a test game for what's to come.
Play Pixel Sports Dungeons now, to see what the game has to offer right now.