I did it once again, the "Impossible" (meaning people haven't tried hard enough yet). It's actually a really simple system that took me about an hour to figure out (could have been faster but I discovered a bug).
---
In the Messaging Object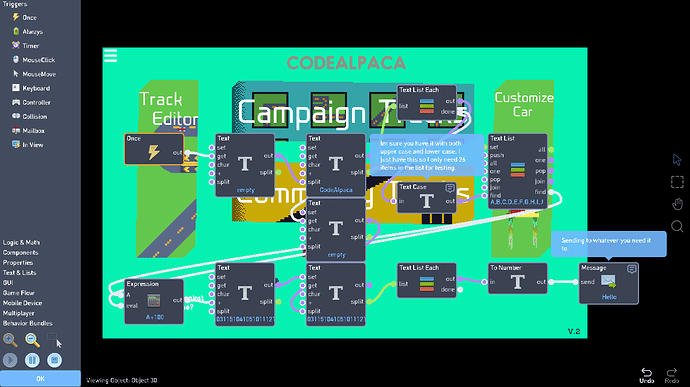 Explanation of what it is doing

So what's happening is that the text is getting Split so it can go into a List Each (The Text Case is just there to make it all uppercase if I wanted to complete the list I would add lowercase, numbers, etc to it). That then goes into a Text List "Find" input to see what letter it was. That then goes into an expression where I add 100 to make each word 3 numbers long (A = 101, Z = 126, this is the key to this system), that expression then gets added to a Text behavior to store those values. It then goes into a List Each (Would have done Text to Number but that created a bug) where it was then sent to the object that reads those values via a Message (Wow).
---
In the object getting the Message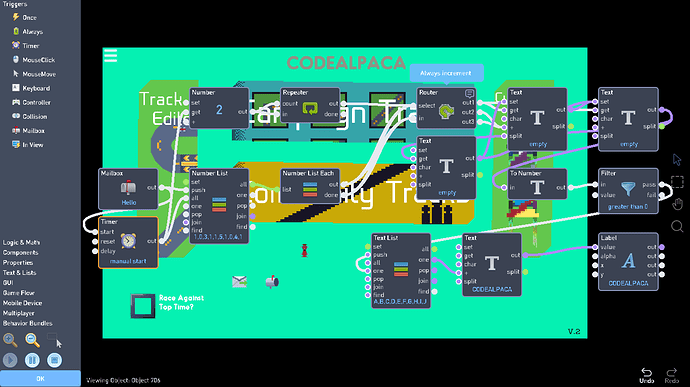 Explanation of what it is doing

So when this gets the values it adds them to a Number List and all of it is then outputted from a timer set to 0 for a 1 frame delay. Once the list is outputted it goes into a List Each which outputs all the values into a Router set to "Always Increment" (It automatically gets 2 inputs so it starts at 1, unneeded but it looks better). When outputs 2 and 3 are activated they are added to a Text, and when output 1 is activated outputs those values into a To Number which goes into a filter (only needed because the repeater activates 1 at the start), that then goes into One input on a Text List, which then gets added to a Text. And when the List Each is done it puts the Text into a Label. (after each time 1 is activated it resets the stored values)

And then boom! You have an incredible CodeAlpaca trademarked system that turns Text into Numbers and back to Text!
---
@Samuel_PixelPizza in case you wanted an in-depth explanation of how the system works.
If anyone sees any flaws please tell me so I can fix them (Besides having to send a lot of messages because I'm using a List Each in the Messaging object. I would have used a To Number and just converted it in the object getting the message but Flowlab doesn't like long numbers I guess

I also discovered this bug so the system is not as clean as I would like.