i don't get this meme, like usually the neighbors kid is something like this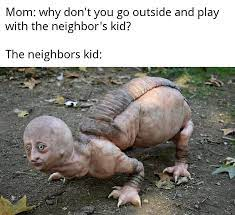 this time you want to play with him i guess
every furry who wants to make me one of them in all the timelines have the same objective so yeah I think I did accidentally make undertale
edit:holy they're fricking with timelines too yeah i definitely did make undertale accidentally probably because i gave the npc in the last furry rp a time travel watch which probably caused a chain reaction
furry rp lore
There are so many more people who have guns and are responsible. Somehow there's mentally insane people who illegally get weapons or steal them just to make every gun owner look bad.
If I was living in a household who owns guns, I don't think many people would attempt to rob our place in fear they'll get shot. Firearms are usually meant for protection, but who are these laws gonna stop. If someone's going to shoot up a public place and guns are illegal, they aren't gonna go home all sad as if that effects them. If guns are banned across the country, people are still gonna get them one way or another regardless of what the law says. All it does is punish those who earned their second Amendment right.
This is my view on the matter so anyone can feel free to agree to disagree if they think otherwise. Weapons in general are bad and I don't ever see a firearm as a tool to act revenge or start conflict, but as a means of protection of oneself and their family.
Daily Poll #12
Pick a cheese
Cheddar
Pepper Jack
Swiss
Plain
Colby Jack
Meunster
Might I also point out that we are, to date, the only first world country without a terrorist attack since 9/11. In a single year britain got 64 attacks.
are you talking ab the US? cause we have had MANY terrorist attacks
Hmm
i got my first ever doctor who audio story today its the k9 audio annual