This is a work in progress.
wow, this is not bad. transforming animation is good
Great animation for the transformation.
Thanks guys

Nice, maybe add WASD controls tho
Where is the De-Bug system for the bullet?
Other than that, this looks pretty good so far. Good job!
I don't know what you mean by "De-Bug system for the bullet".
Thanks! I'm adding more detail like the background right now. I'm also going to turn this into a full-fledged game instead of a gimmick test.
The De-Bug system is a system for projectiles in a game.
Basically, it's composed of collisions (The things that the projectile might collide with), timers (A certain time set until the projectiles are destroyed), and the one Destroyer (Destroys the projectile after the timer is up.)
Here are some screenshots to help you understand this bundle/system:



The inside of the bundle:

One of the timers (They need to be short.):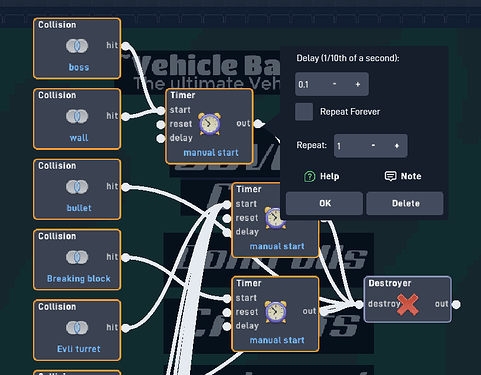 That is the De-Bug system. This system ensures that the player can't fire through corners to cheat, the projectiles can't slide on surfaces, and allows the bullet to be solid.
I hope you find this system helpful.
No thanks, but the emit behavior destroys the projectile automatically with the "expire" feature. Also, I haven't made any enemies yet. Looks cool though.
The 'Emit' behavior can only be used as the De-Bug system for one object. In most cases, there need to be multiple timers.
A parent object is better than using so many collision behaviors.
Also the animation seems a bit stiff/slow
I kinda thought that too but couldn't really figure out how to fix it. G1 (1984-87) Transformers are basically "a brick with legs" according to ManiacPumpkin, which is why I didn't draw [the transformation] that fluidly. Also, I used the LEGO Optimus Prime as my main reference for drawing him.
Yikes. 99% of my games use projectiles somehow, and none of them are on timers like you said.
sup3r87 has been added to the game, can you find him?
Bumblebee and Megatron have been completed, but they may have some bugs with their PC movement controls. Since the official Transformers mobile game Transformers: Forged to Fight shut down, this game will attempt at filling the void.
Next, I will characters from the Michael Bay Transformers movies because I heard that those characters were specifically removed when the game came back on May 10th this year because Netlfix owns it now.
Yes, this is understandable. The De-Bug system is unknown to most users. The 'Expire After' is sufficient for most games.
New game cover


Yep, the game's name is now changed too.
Also I forgot to mention how Optimus, Megatron, and Bumblebee are all done. Can you playtest them? Bumblebee's level even has him attacking a Decepticon base just like the mobile game Bumblebee: Overdrive by Budge Studios, as well as the ability to drink Energon. You can also shoot the Energon to blow it up.
for some reason as soon as you said bumblebees name, it instantly reminded me of that Angry Birds Transformers Runner Game I used to play when I was younger.