The spook attack is the same attack as the first game. The Special, however, is new

Did I just hear the mention of Super Smash?
Im a just a wondering… Witch hat head?
Hold on to that thought, my friend

Hey, gang!
Thank you so much for the support you've shown after releasing the first screenshot. It was super encouraging

Today marks the first day of development for Wilder's Creation and while I don't have too much to share, I would like to share a little song I've made.
Wandering Through The Night
(This song is not for reuse. Please do not steal this, thank you)
Hope you enjoy, and be on the lookout for anymore announcements to celebrate the Halloween season

This sounds awesome! Love this track, very nice work on the down beat especially!
Hey, gang!
Just giving another progress update. Level design is going really well and I have two worlds down as well as some other areas/levels. I'm currently working on a text system to use in the game. Being as this game will have a bigger focus on story compared to the first, I need to make sure I have a solid system before I get too far into development. The first game had its story told through static images shown before each section of the mansion, however I plan on having in-game dialogue and cutscenes this time around.
Sorry I don't have any special things to show in honor of the Halloween season this time.
I bet this game will be legendary
While I appreciate the compliment, I have to get this game released before you can say that

I mean like the things im reading and seeing imma edit that rq
Glad we got that cleared up, and thanks again




this game is lookin nnnnniiiiiiiiiccccccccceeeeeeeeeee

That's noice, also music is very noise good

Hey, gang!
Happy Halloween! Hope everyone had a wonderful day of spooky fun

. I've had fun revealing different things for Wilder's Creation 2 this month and I don't have anything huge to end the month with but I do at least have a page from my WC2 book. It's a book that I've written and sketched in since the beginning of the development of Wilder's Creation 2. It's got a lot of cool stuff within it but here's a small peek: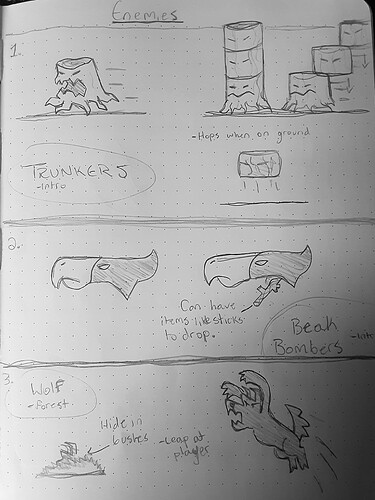 I'd hate to leave you guys with so little, especially considering this is the holiday that inspired the games, so I'll also say that there will be a trailer for Wilder's Creation 2 as well as a different title for the game. The trailer will release hopefully before the end of the year and along with it the title reveal. Hope that's something you guys will look forward to, because I'm excited to share it!
Ooo, can't wait to see the trailer! Also, very mysterious with the new title, exciting!
Curious - any official announcement for a release date? Or is that under locks

Welp, full disclosure I don't have an official release date quite yet but I can guarantee an early 2022 release date.
Nice


(I'm gonna be perfectly honest here: I've been going INSANE waiting for someone to post)
That's great! All the games you make inspire me to create something and make more projects.
That comment actually made my day, seriously that means so much to me. I'm so glad you like my work

I look forward to your next big release @00T_Free !